There are many options for what to do in Trogir and Čiovo Island. You can choose between cycling, kayaking, rafting, rock climbing, and mountain biking or just wandering around. Most of these activities you can find in Trogir but also in Okrug Gornji on Čiovo.
The time when the sun and the sea were only thing to offer to the tourists passed long time ago. More and more tourist agencies are creating very interesting offers. Here are some options for what to do in Trogir and Čiovo Island for you.
Our tip: to enjoy every minute of your holiday explore the options before arriving. If you want to have some active holidays we recommend to check our offer and book apartment at Okrug Gornji on Čiovo Island.
What to do in Trogir and Čiovo Island
Kayaking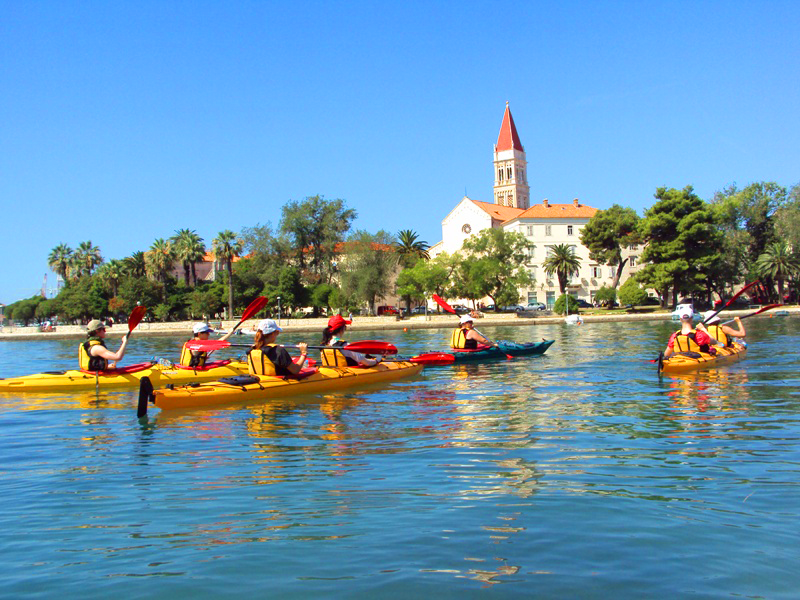 We suggest you two routes: kayak to the nearby islands or around town of Trogir.
Route around Trogir is 7 km (4,5 miles) long and takes 3 hours.
Route starts in Seget Donji. From Seget continues to Trogir and back to Seget.
Trogir is surrounded by the sea so you will have the opportunity to see the whole town from different perspective. Instead of following your guide through crowded streets, this way you can also get lots of interesting information. The atmosphere is very relaxing so you usually get more than rough statistics. You will get true lively story about the town history and cultural heritage.
If you are afraid kayak is to demanding for you, do not be! You will get the opportunity to stop for a while. You can have a rest on the beach and refresh in Adriatic sea. You can chose between morning or evening routes.
Second route starts from Port of Seget Donji  too. First goes one-hour boat drive to Drvenik Island. From there you will take your kayak for 7 km (4,5 miles) long tour.
While on Drvenik, do not miss to see beautiful Blue Lagoon beach and swim in crystal clear sea. You will feel like in tropical paradise in the middle of Adriatic Sea. A full day trip starts around 8:30am and finishes around 4:30pm.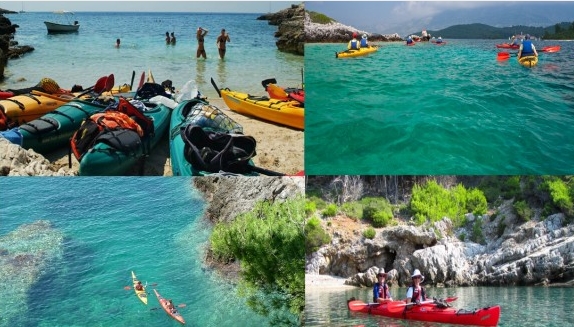 Previous experience is not necessary, as the routes are not very demanding. Minimum age is 8, so this could be very nice family trip. The price is around 35€ – 45€. Most companies are providing a drink or even a light lunch in one of the many beach restaurants and bars. Both routes are available from middle of the May until the end of September.
Our tip: If you already have experience and prefer to go on your own, you can rent kayak and enjoy by yourself. Bring some water, sun protection and hat. You can find many beach bars and small restaurants to have a snack and refresh. If you are thinking about what to do while in Trogir and Čiovo Island, kayaking is wonderful option.
What to do in Trogir and Čiovo Island  
Biking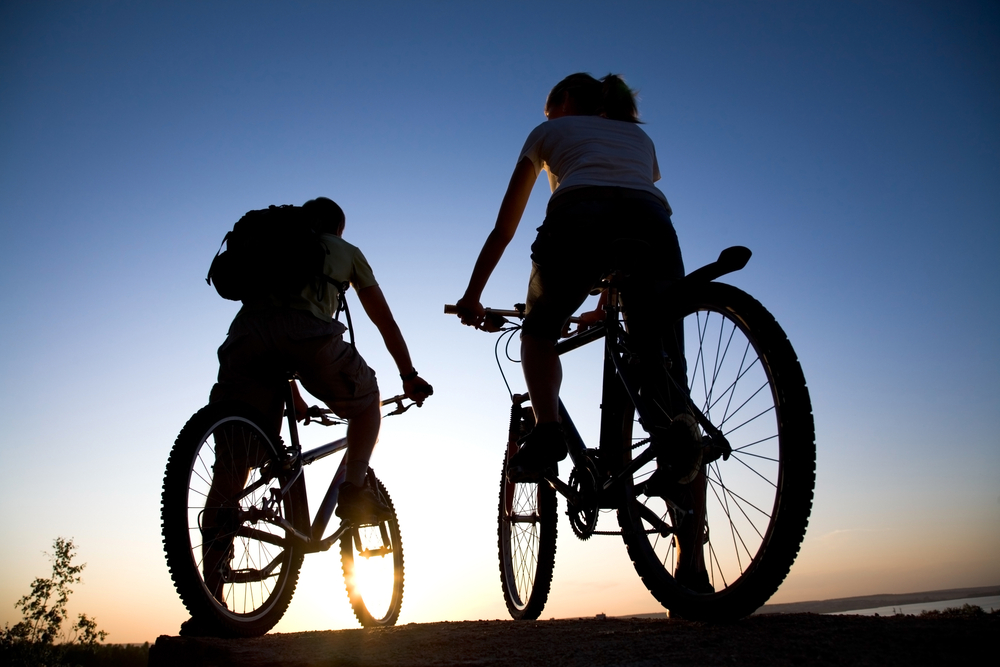 Trogir is one of the best places to visit in Croatia. Do not stop there and discover the whole area with the bike!
If your want to explore side areas and see the parts that you cannot visit by car, renting a bike is a good idea.
You can rent bicycles at many points in Trogir and Ciovo Island. It is even possible to order one to your apartment door. You can rent bicycles in different sizes and for all ages, so family holidays can be very fun. Most charming route to cycling on the island Ciovo is through Slatine and Okrug Gornji. You can also go all the way to Trogir and more forward to Seget Vranjica.
Price to rent a bike  goes around 15 – 20€ per day. Protective helmet is included but do not forget to bring some water, hat and protective cream.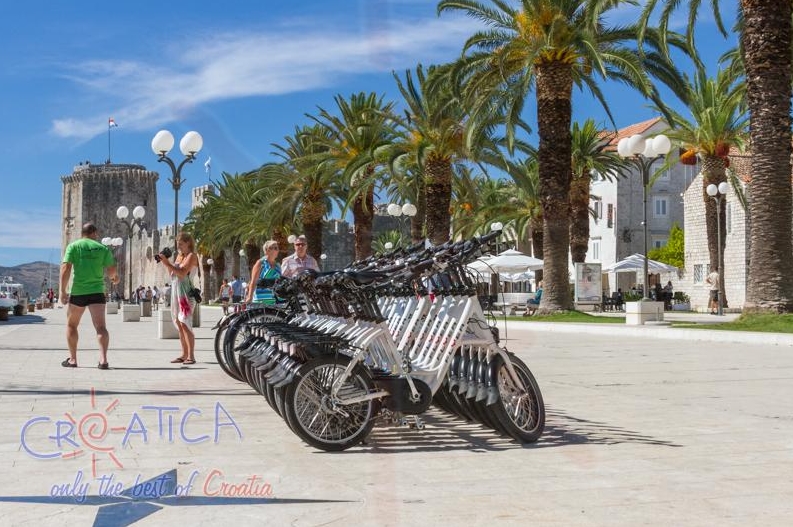 By bike, you will get the opportunity to visit uninhabited parts of the island. There is nice route next to the 2 km long pebble beach in Okrug Gornji. It is full of beach bars where you can stop and refresh. You will also find many restaurants with traditional dishes and light lunches. It is not necessary to bring the food with you. Check our recommendations for your lunch and choose between some of the best Croatian dishes.
Our Tip: The beautiful landscape is there for you to discover. Do not hesitate to stop and talk to the locals. They will be happy to help you with advices.
If kayak is not your option for what to do in Trogir and Čiovo Island take your family to the unforgettable sightseeing by bike!
What to do in Trogir and Čiovo Island 
Multi sport Tour
Multi-sport tour combines bike and kayak. This is great opportunity to explore the area from the inside and the outside. Tour starts with 10 kilometers (6miles) bicycle tour and finishes with 7 kilometers (4.5 miles) kayak tour. The tour starts in the village of Zedno – few kilometers away from Trogir. From there you will bike to the top of the island. While on top, stop and look at the fabulous islands in front of you. Then turn around and on the other side, you will see beautiful mountains of Kozjak and Mosor. This route will take you to the Lady of Prizidnica. It is small sanctuary on a beautiful and unique location. Here you will feel nothing but tranquility.
After that, you will cycle to the small beach for a break and light lunch. Traditional Dalmatian food is on menu of course. If not hungry, you can just relax on the beach, take a swim or snorkel before jumping in your kayak.
After exploring Ciovo Island from the inside, paddling around it will make the picture complete.  Stunning cliffs and amazing sea caves shaped by the sea will show you all its beauty. On this tour, you will stop for a while and have a rest on small beach. This beach can be reached only from the sea. Here you will be served again with delicious traditional Dalmatian food.
After lunch, you will have enough time to enjoy the see, swim and snorkel before paddling back to the north side of Čiovo Island. You might be tired but you batteries will be full. This route takes around 8 hours and it starts in the morning around 9 am. Suggested minimum age is 12 years and the price goes around 100€ per person.
Our tip: Ask for family or group discount if there are more than three of you. Try not to drink too much of vine with your lunch. Under the strong sun it will make you feel dizzy.
If you are coming in July 2014 do not miss to visit Ultra Europe Festival in Split!
If you are coming with the friends this can be fabulous answer to what to do in Trogir and Čiovo Island. Definitely do not miss it!