Lopud Island is part of Elafiti Islands. It is one of three inhabited islands and is situated between Koločep (the one closest to Dubrovnik) and Šipan Island. It is only 5 km away from Dubrovnik.
Greeks were the ones who first discovered its beauty so it was inhabited for centuries. At this moment, approx. two hundred citizens live there. Lopud Island has everything you might need: restaurants, bars, souvenir shops and ambulance. There is also a post office so surprise someone by old fashioned way – with postcard! There are few restaurants offering variety of local specialties, as fresh fish and seafood so do not miss to try!
While Koločep Island is bit Robinsonian, Lopud is true Mediterranean island. Whole Island is covered with beautiful wild grown bunts of flowers and orange and lemon trees. Lopud Island is perfect small sunny paradise surrounded by the sea. Sadly, this also means that more tourists visit Lopud then Koločep. This is why we rather recommend Lopud Island for those who do not mind full beaches and bit of noise from the bars.
Lopud Island is only inhabited on the part of the island closest to Šipan. There is small village called Lopud too. Across, on the other side of the island you will find beautiful sandy beach in bay Šunj. To reach Šunj from the village you just need to follow the small path across the island. If you want to avoid walking, in port in the village you can also rent a small car called buggy or a bike. Lopud Island is car free zone but has tiny road for this types of vehicles only. There is no classic road and cars so island is free from pollution.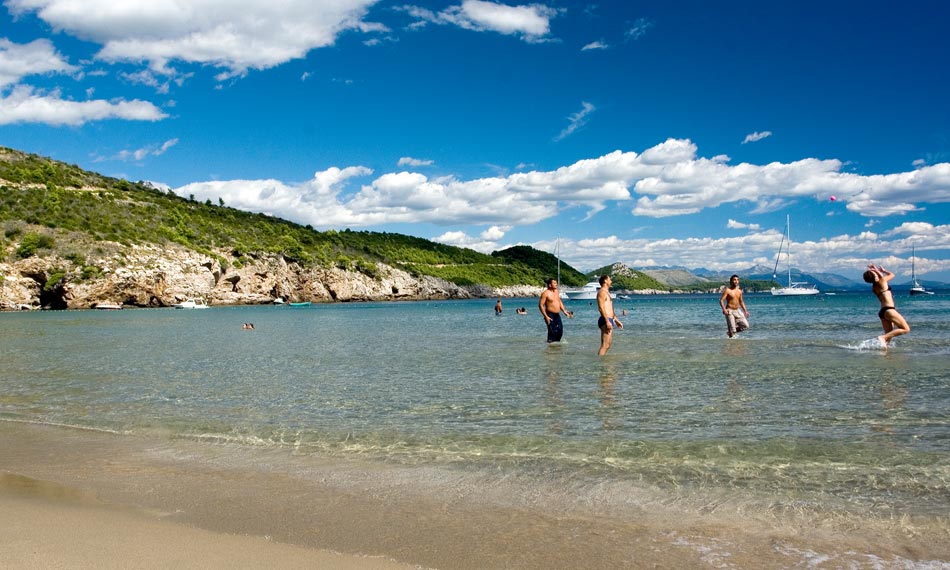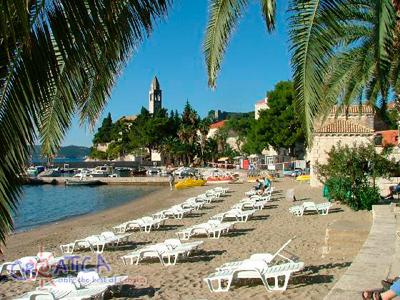 Beautiful beach in bay Šunj is one of the favourite beaches for Dubrovnik citizens too. You will notice them jumping into the sea from their small boats, especially during the weekend.  As the sea gets deeper after 100 m this beach is ideal for children. There is also one great beach bar to hide from the sun and refresh. As all beaches on Dubrovnik coastline are pebble, Šunj will surprise you. On this island you will find 1,2 km of sandy beaches but you can also find one small beach in Lopud village too if you want to get quick refreshment.
In the middle of 15 century, Lopud Island was regional headquarter of Dubrovnik Republic with 80 ships in the fleet which is really large number for such a small island. As Dubrovnik, Lopud had its own rector's palace too. Nowadays you can only visit it ruins.
Lopud Island was most inhabited in 16th century. In that time there was more than 30 small churches and number of summer palaces whose owner was Dubrovnik Republic aristocracy. There were also few monasteries on island. Some of those places are well preserved and you can visit them too. If you book your holiday apartment in one of those small houses on Lopud Island do not miss to explore other parts of the island and those old stones ruins. Lopud is great for long walks in the evening when the sun goes down.
On the highest point of the island stands Spanish tower Sutvrač from 16th century. From that point you will get magnificent view to whole Lopud, other Elafiti Islands and part of Dubrovnik. Beautiful landscape and sun sinking to the sea will take your breath away. Of course, ferry from Dubrovnik harbour and back goes regularly. It will take you approx. 50 minutes to reach Lopud. Just make sure to buy your ticket at least 1 hour prior to departure. Ticket price is 23kn in one direction.
Our tip: If you still want to stay in Dubrovnik, do not miss to visit Lopud. You can book one day fish picnic trip for approx. 250,00 – 300,00 knor kayak tour.