When you think of Croatia first you will think of Dubrovnik, Split or island of Brač. But we have a list of the best places to visit in Croatia and you will love it!
There are also some small places you will never see on brochures but will take your breath away. We are bringing you the list of five places with soul in Croatia you should definitely visit!
TROGIR one of the BEST PLACES TO VISIT IN CROATIA
No matter how breathtaking, for some places in the world you never heard of. TripAdvisor has announced Trogir to be one of it! The reviewer states that Trogir is full of character and good restaurants. Someone called it a small Venice once but we believe Trogir is much more lively then Venice. The old part of the town is situated between the island Čiovo and mainland. Čiovo is connected by bridge with old part of Trogir and mainland is also connected by bridge to old town so old town Trogir is basically an island.
Trogir is the town where you will find all you need; from cultural heritage, warm pebble beaches and excellent restaurants for reasonable prices. You will not feel that people are pushy, but relaxed-typical Mediterranean people. It is also a perfect base if you would like to research surrounding areas. It is only 25 km away from Split. Boat lines to nearby islands are very good. You can visit Drvenik, Šolta, Brač and Vis islands. Do not miss to take a boat trip to the island Drvenik. You will be stunned by beauty of its beach Blue Lagoon. Blue Lagoon has crystal see and sandy sea bottom. Looks like a small tropical paradise on Adria.
Trogir also has many beautiful beaches where you can enjoy sports activities: tennis, bowling, water skiing, surfing, and snorkeling. If staying longer you can even take diving lessons and do underwater photography.
To learn more about cultural heritage visit Cathedral of St. Lawrence. It was built for more than three centuries from 13th till 16th century. You can see mixes the Romanesque, Gothic, Renaissance and Baroque styles. Climb up to one of many church bells and you will see the beautiful panorama of whole town.
If you come to Trogir this June do not miss biggest medieval fair in Europe – Battle of nations. This is very interesting national team competition in medieval battles with lots of fans all around the world.
Our tip: if you are staying longer rent villa or apartment on Čiovo, you can enjoy better beaches and visit Trogir every day. Our tip is Okrug Gornji, check our beautiful villas and apartments in Okrug Gornji!
If you stay short book some villa or apartment in Trogir.
Did you know: Trogir was named after the word Tragos. Tragos is actually Greek word for goat. When the Greeks firs came to this area they saw the goats on the hill and named the town that way.
KORČULA one of the BEST PLACES TO VISIT IN CROATIA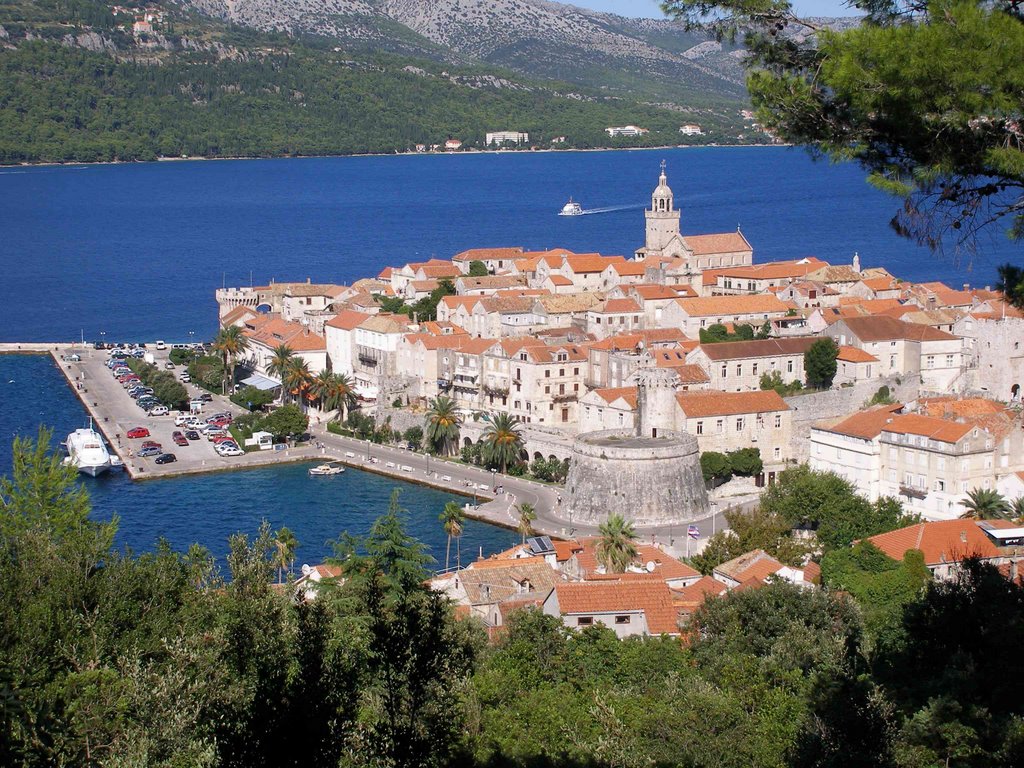 Like someone once said: Korcula is carved as a beautiful jewel…
Olive trees and vineyards centuries old keep this island away from hustle of modern world. Nothing is worth of hurrying up. Sea air and smell of the pines will just come over you so just slow down and relax. It would be good idea to get someone to remind you when you have to leave.
Korcula is famous for knight game Moreška. Moreška is very interesting sword dance for love, playing in Korčula for more than 500 years.
Besides cultural sightseeing, you can also have a long walks around the island or bicycling. The paths are excellent even for those who did not do it for long time. If you like something more demanding you can also surf, snorkel, or dive. There are more than 200 species of fish and other sea creatures to meet. Kayak could be good option especially if you want to explore many hidden caves around the island. If you decide to visit Korcula later in the year you can help locals with picking olives and grapes and take your own olive oil and vine home with you. You can also rent a car, scooter or boat to explore the whole island.
Island is very close to Dubrovnik so you can take a boat trip every day and make one-day excursion. Korčula you can also reach by boat line from Split or drive through Pelješac vineyards and take a boat in Orebic to drive you just across to Korčula.
You can go to Pupnat and enjoy very nice restaurant there and while in Korcula town do not miss restaurant at Maja and Tonka
Our tip: While there, eat like Croatian and try tuna in white sauce with tasteful Pošip Čara or Grk from local vineyard! Try to visit Čara vinery and try their other vines.
Did you know: Korcula is a birthplace of one of the most famous seaman explorer Marco Polo? His journey on the Slik Road from Europe to Asia lasted around 24 years. Part of that time he spent as a Kublai Kan minister. Inspired by his stories Amerigo Vespuci and Christofor Colombo started their own journey, which culminated by discovering America. Moreover, in Korcula you can visit the birth house of Marco Polo. Historians are still discussing that option, but if you visit Korcula it won't matter after all!
Find your perfect apartment in Korcula…

CAVTAT one of the BEST PLACES TO VISIT IN CROATIA
If you want to enjoy beauty of Dubrovnik but avoid its hustle then stay in Cavtat. It is close enough to visit Dubrovnik whenever you wish (only 18km). Bus lines are excellent so you can catch a bus every hour. In summer you can also take a boat cab to drive you directly to the old port. Dubrovnik Airport is also about 15 minutes away by car.
Dubrovnik is real pearl of Adriatic which makes so many people wanting to visit it, so it can be crowded. As we all want to fill our batteries before going back home we recommend Cavtat instead. If you look south from Dubrovnik port you will see tiny town growing from the stones. One glimpse will explain you its Croatian name – to blossom.
Antique name for Cavtat was Epidaurus, so yes, it was Roman colony too but it is founded by Greeks in 4th century BC. Do you ever wonder why Romans and Greeks loved this area so much? Well, you will have to come and check it out yourselves. We promise you will not be disappointed.
In city center you will find everything you might need, from post office, pharmacy, bars and really good restaurants. Walking on the long sea front promenade that circles peninsula is great way to breathe some fresh sea air and finally to spend some quality time with your family or friends.
Cavtat also offers different possibilities as diving or kayaking around small islands in front. Adrenalin park St. Ana offers variety of activities like zorbing, spin roller, motto cross, squad, but also riding.
In background of Cavtat in hills, you will find number of rural tourism households. Dishes are prepared on most traditional ways and all waiters are dressed in national costumes too. This could be nice one-day trip if you decide to have a long walk around. The hosts will welcome you with homemade brandy with herbs. Of course, it is not polite to reject them so make sure to have a solid breakfast before tasting it. It is really quite strong so locals are often amused by grimaces that tourists make on first sip. Every Sunday morning at 11 am you can visit CIlipi and see traditional folk dancing too.
From Cavtat you can easily visit neighbour countries Bosnia and Herzegovina and Montenegro to get the better picture about this region.
Our tip: Visit restaurant Monković, located a bit outside the town. It is beautiful rural place offering local specialties. It is situated in traditional mill on the bank of river Ljuta. Definitely try homemade Lamb under the bell link
Find perfect apartments or villas in Cavtat!
SKRADIN one of the BEST PLACES TO VISIT IN CROATIA 
Skradin is a typical small Dalmatian town whose traditional houses are built in Venetian style. You really want to see how people in Dalmatia lived long before the tourism? Then this is where you need to go.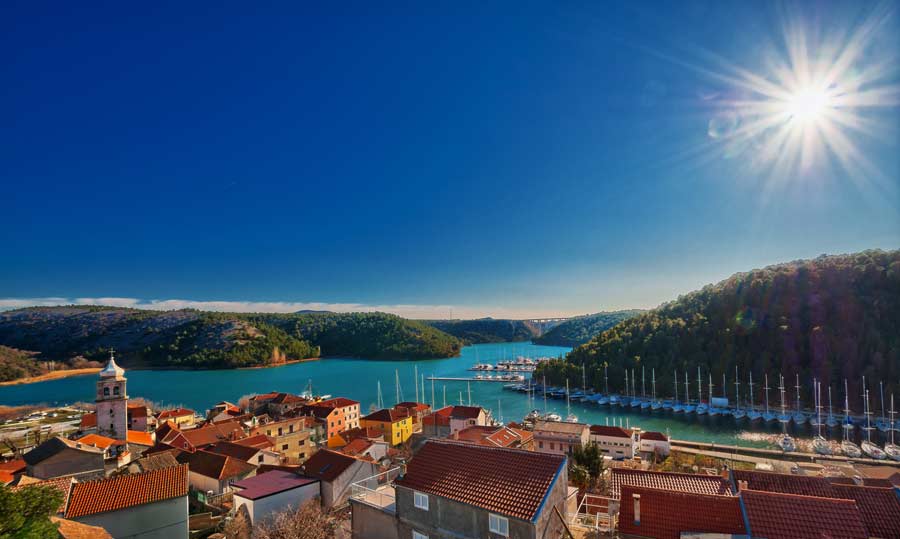 Basically is built on Romans founds. Archaeological findings as gold rings, bracelets and necklaces, show that mostly high-class citizens of Roman Empire lived there. Now days Skradin offers variety of cozy family restaurants and small shops with unique handmade handicrafts. Definitely make sure to bring one home with you.
While in Skradin also make a trip to National Park Krka and visit its seven tuff waterfalls. This national park got its name by River Krka and it is only few kilometres away from Šibenik, and 80 km away from Split. These cascade waterfalls are unique in Europe and more than worth to be seen. Take a boat tour to small island of Visovac. There you will find monastery where Franciscan monks lived for more than 500 years. You will be impressed by waterfall Skradinski buk. It is rally unique and beautiful – real small wonder of nature.
While driving on a highway to Split, stop on a highway stop by Krka and just turn around. You will see Skradin in its full beauty. And it will take you off your feet. It is the picture you can see in movies only.  But only until you visit Skradin. On Krka you will also see lots of mills.
Our tip: visit family vinery Bibich and try their excellent vines. This vinery is situated on hills of Skradin. First grapes were planted by owner's grandfather and now the young owner gives his best to preserve family heritage. His efforts are really remarkable so some of those vines you can also buy in the USA. 
Did you know: Hydro power plant on Krka river was built only three days after first world hydro power plant on Niagara waterfalls.
KOMIŽA one of the BEST PLACES TO VISIT IN CROATIA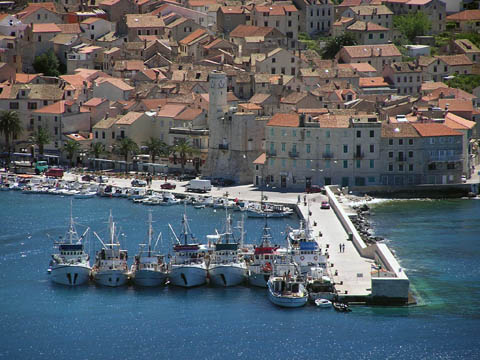 Vis has been a central military base for over 40 years. This calm period helped preserving all its natural beauties. International environmental organization World Wildlife Fund declared Vis as one of the 10 best-preserved islands in the Mediterranean. Vis is a real unspoiled treasure among numerous Croatian islands.
Some of many hidden tunnels that army built around the island are tourist attractions now days available to visit.
If active holiday is only option for you, visit Komiža on Vis island. You can choose between caving, scuba diving, paragliding, hiking, rock climbing, or just having a long walks.
If you like diving there are number of location with sunken planes, sailing ships, submarines, and warships to explore around the island.
If hiking is your choice, Vis also has number of caves as Queen's Cave filled with stalactites and stalagmites. This cave is named by Illyrian Queen Teuta who ruled in the 3rd-2nd centuries BC. It is one of the most beautiful parts of the island of Vis. Another cave was used as headquarter of Marshall Tito while hiding from Germans in 1944.
Do not miss to visit Blue Cave on island of Bisevo. As the sun penetrates into the cave through a gap see inside gets beautiful silvery-blue colour. It is one of world's most beautiful natural phenomena. On small island Ravnik next to Vis you will find similar one called Green Cave.
Tired of action just take a quick shower and take your place in restaurant on the beachfront. Komiža is well known for excellent restaurants offering seafood, fish and especially lobsters. Lobster house restaurant where you can choose your own lobster is very interesting. So pick your catch of the day and enjoy local vine Vugava. Authentic stuffed bread called Pogača (link) will be delicious with any meal you chose. Also visit interesting restaurant Fabrika in Komiža.
Did you know: In Sand Pedro, USA lives 10 times more native born inhabitants from Komiža then in Komiža. Because of the Vine disease at the beginning of 20 century lots of people were forced to emigrate. If you add their children and grandchildren to the number, it could reach 20-25 thousands of people.
HUM one of the BEST PLACES TO VISIT IN CROATIA
Can you imagine the town with less than 20 inhabitants and only two streets? You can find one on green hills of Istria. According to legend, Hum was built from the remaining stones of the towns that giants built in the valley of the river Mirna.
Narrow stone streets, small squares, churches and massive walls will tell you the story. Try to visit interior of one of the houses and you will want to take it home with you!
The most interesting way to reach Hum is through the Glagolitic Alley, a road marked by stone monuments. Each stone represents one letter of the Glagolitic alphabet.
While there definitely try famous Fuži with truffles and delicious vine Istarska Malvazija.