Posted by: Maja Cupic Soletic / Category:
Events
/ No Comments
Battle of Nations in Trogir from the 12th till 15th of June 2014- Trogir will host the biggest medieval fair in Europe including world championship well known all around the world – Battle of Nations.
Battle of Nations in Trogir 2014
It is national team competition in medieval battles, using metal weapons and a standardized list of rules, with no choreography but demanding fight requiring variety of skills and endurance. For the first time in history of this contents women category will take part too. All fighters participants go through strenuous mental and physical preparation that lasts at least a year long.
HMB (Historical medieval battle) is spectacular and extreme sport that has its fans around the world so Trogir is expecting large number of fans to visit.
Medieval fights lovers will be cheered by few thousands of tourists during especially exciting night battles under the lights of torches. National teams from 25 different countries from four continents compete in several standard nominations, including "Triathlon Duel", "Professional fights", "5 vs 5″, "21 vs 21″ and "all vs all" as a full contact battles.
Medieval Trogir with its walls and fortresses will be natural environment in this battle of nations in Trogir for:
• Competitions for the best workshops of armour
• Competition for the best armour teams and separate fighters
• Competition in the best authentic men's / women's medieval costume
Armour workshops from Ukraine, Russia, Belarus, Poland, UK, and many other countries will be presenting their authentic work to public.
Battles will take place on the campground located on the beach with stunning views of the real medieval castle. Authentic camp is to build in Soline offering variety of gastronomic selection, where the tents for participants and visitors will be raised in order to revive medieval life for four days. Medieval cuisine will also be served in over 30 restaurants and available for everyone at an appropriate price.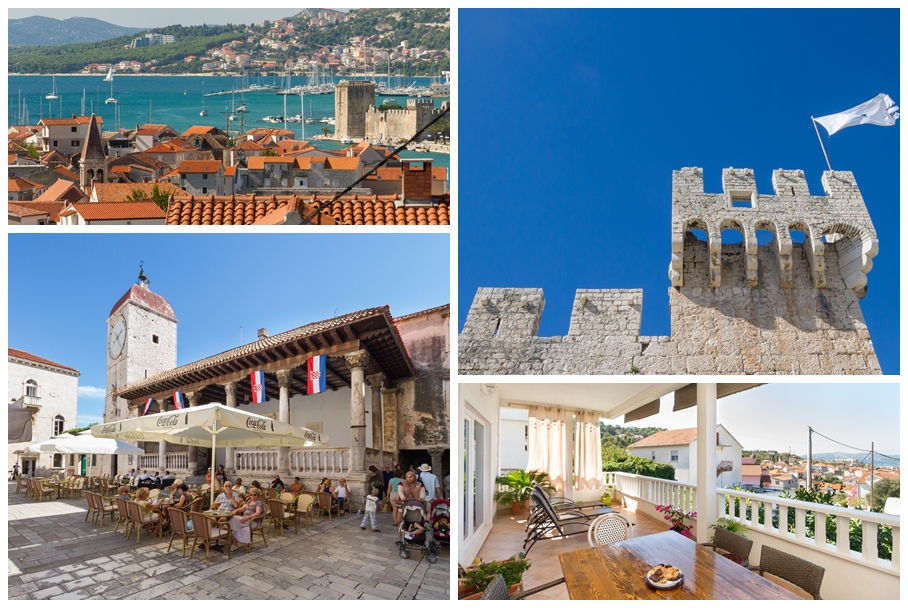 The spectacle is organized by the International Association for the historical medieval battle (Historical Medieval Battle International Association – HMBIA) as a new type of sports and cultural activities occurred in the modern era that will revile the history of the middle Ages.
Popularity of this festival is best illustrated by world media interest in it. Online streaming of the World Championship will be supported by the largest international web-portals, 15 TV channels and 10 radio stations. All fights in battle of nations in Trogir will be translated in 5 languages. After colorful battles presentation variety of activities will be offered to bring back the spirit of old times to Trogir.
24H massage tent with sport or relaxing massage will be offered for free to fighters by female and male professional masseuses. Authentic cabaret will be available during night hours where fighters can relax and enjoy medieval dances performed by professional female dancers. The festival will come to its end with VIP guests from the world of sports, movies and politics who will hand the prizes for the first 5 places in each category, for example the masters of medieval weapons handling and best male and female authentic costume.
Battle of Nations in Trogir 2014
Trogir has good transport connections with Split and other major Croatian cities. Split Airport is only 6 kilometers away from Trogir. In addition, during the World Championship there will be a free shuttle service for the members of the national teams, and low cost for the audience. Taxi is also always an option.
Once you are there, and after festival finishes take you time to take a closer look to the number of historical sightseeing spots:
Camerlengo fortress – XV century
City Hall – XV century
North Gate – XVII century
The city walls – XIV-XV century
The Prince's Palace – XIII century
San Lorenzo Cathedral – XIII-XVI century
Romanesque Church of St. John the Baptist – XIII century
8. The Gothic church of the Dominicans – XIV century
And, of course, at the end of it all blue Mediterranean see and long Trogir beaches are waiting for you to relax and enjoy!
This link will introduce you to the story but make sure to book place in one of the Trogir apartments to real experience which we will be happy to help you with.
www.youtube.com/watch?v=1TaAfYc4kvs#t=18
Check out our offer of Trogir apartments!