Dubrovnik is magnificent ancient town in south of Croatia that you will fall in love with at the first sight. It has rich cultural heritage and beautiful buildings centuries old. But that is something you will find in all brochures.
We are presenting you local tips. Do not miss our top five must do in Dubrovnik! Of course, most amazing part of Dubrovnik are city walls and museums. Visit them and take pictures! Create memories that will stay long in your heart and mind when you think of Dubrovnik. Best way to feel this town is with these top five must do in Dubrovnik.
Top five must do in Dubrovnik
Walk small streets behind Cathedral
Stradun,  main Street of the Old Town is stunning, but you will fall in love with hidden streets just behind cathedral.
Climb up beautiful stone stairs and check how it is to live in the Old Town. You will pass right on the doorsteps of people lucky enough to live there.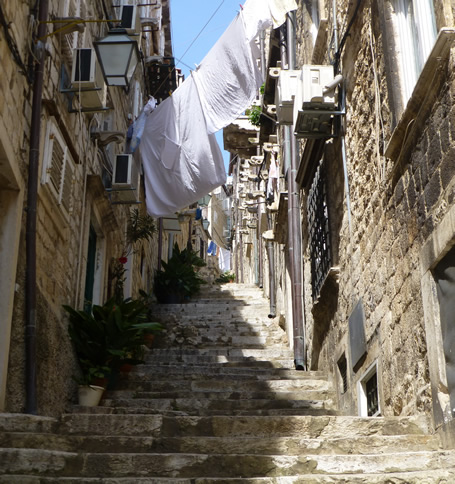 Pass through the labyrinth of small streets with flowers hanging from the balconies. You will love windows covered with the green wooden covers protecting residents from the heath and noise from the street. You will feel real Mediterranean atmosphere there, so it is definitely one of the top five must do in Dubrovnik! You cannot get lost. Stradun will always be down as your orientation point so take time and enjoy just looking around.
This walk can lead you to second of top five must do in Dubrovnik…
Our tip: try not to use your camera too often. Just wander around and enjoy!
Top five must do in Dubrovnik
Have a drink at Buža bar
Buža bar is situated on cliffs just behind Old city walls. Buža is a local word for the hole. And that it is – a hole in massive old walls giving you the best view  to Lokrum Island across. Try to come in the sunset. It will be most beautiful sunset you will ever experience while soft music plays in the background. They serve everything from regular coffee to cold drinks and snacks. Some find it pricy, but also admit it is unique, and definitely one of the top five must do in Dubrovnik!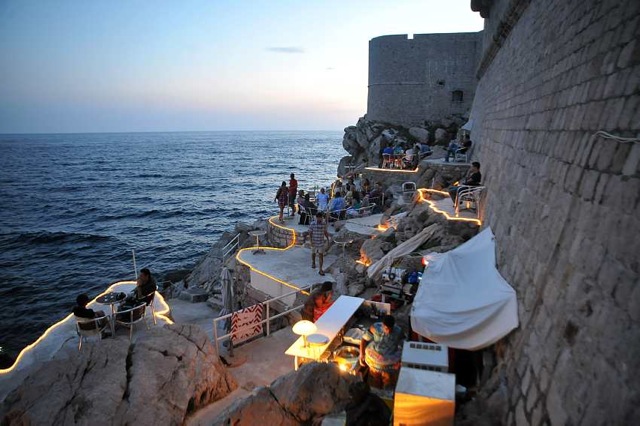 The easiest way to find this hidden place is just to climb the stairs behind Cathedral and following the signs. While there, order a glass of refreshing Croatian beer and watch people jumping in the sea from high cliffs in nearby. This is something that locals love to do but lately it is especially popular among Australian tourists. For Australians this is one more top five must do in Dubrovnik but we would not recommend it as you really have to be careful to avoid hitting the rocks under the sea.
Our tip: it is not recommended to visit with children for safety reasons.
Top five must do in Dubrovnik
Walk the city at night
Dubrovnik is one of the most beautiful places in the world and therefore full of tourists from the early spring to the late fall. You will probably be very annoyed by the hustle and bustle and rivers of people pushing and hitting you under your ribs while you just want to look around.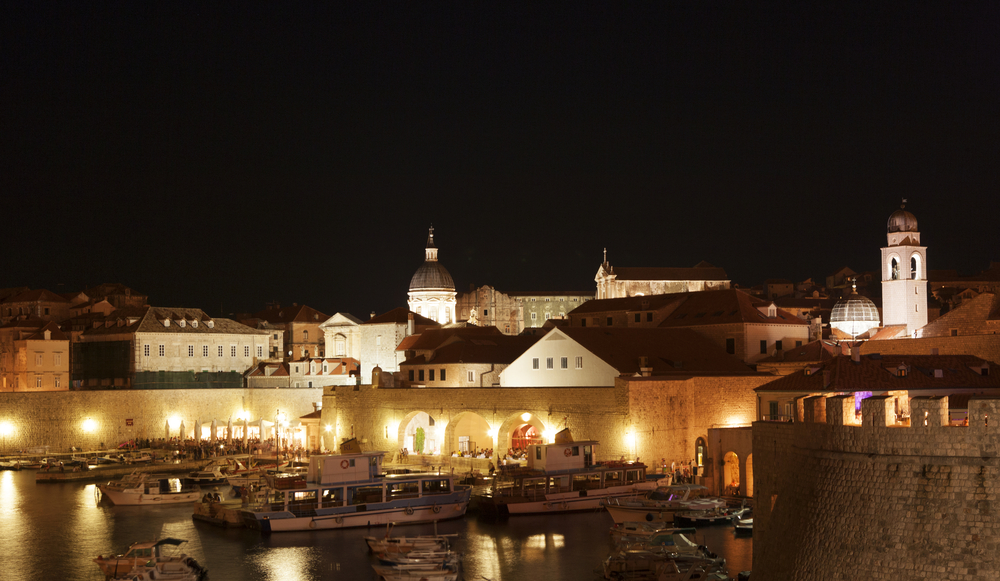 This is one of the top five must do in Dubrovnik because you simply cannot leave Dubrovnik without truly seeing it. Make sure to go out and have a walk through the main street Stradun the late as possible at night. As soon as you pass through Pile or Ploče gates you will see its full beauty. Do not expect to be alone there as most bars and places to go out are situated inside the city walls. It will be completely new experience to see it almost empty. As someone once said, it will be like when the party is over and all guests leave. You will just want to stop for a moment and enjoy the silence. Take a walk and look around. Take a break from learning history facts and explore for your soul only.
Our tip: If not too late, sit at one of the bars right on Stradun and order a glass of vine. It is simply a wonderful way to finish the day! Definitely one of the top five must do in Dubrovnik!
Top five must do in Dubrovnik
Cable car will take you to the top of hill above the city in only few minutes to give you the best view of Dubrovnik. You will have whole Dubrovnik right on your palm! On the corner of your eye you will see small town on south.  Cavtat is one of the best places to visit in Croatia so do not miss it! The view from Srđ is especially amazing in the sunset. Once you are there you can try some of the best Croatian dishes at panoramic restaurant. Prices are not too high and atmosphere is great.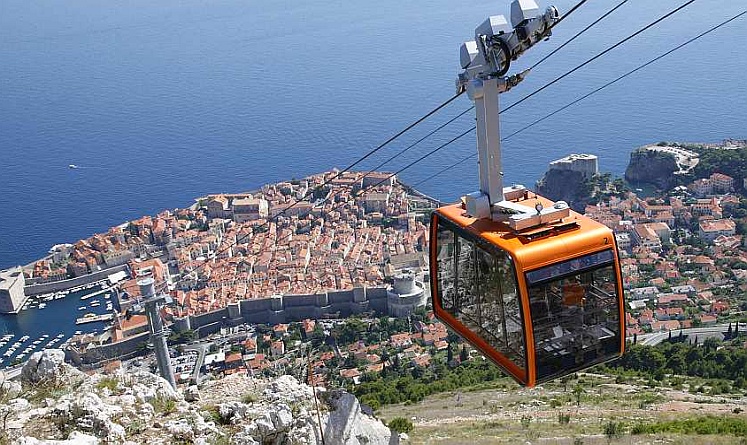 You will not resist to make at least one selfie, so when you do feel free to post it on our Facebook page.  We would love to see it, so you can just add it as one more must do in Dubrovnik! Ticket to the cable car goes around 13€ for both directions. In the summer it runs from 9 a.m. till midnight. You can also buy one in one direction and then simply stroll down walking.
Our tip: Try to catch the last one to go back down – simply must do in Dubrovnik
Top five must do in Dubrovnik
D'vino bar is situated in the third street on the left if you are entering the Old Town from Pile gates. It offers wide selection of best Croatian and foreign wines. The best thing is that you do not have to buy the whole bottle but just a glass. So if you do not know anything about Croatian wines and you are willing to learn this is the place for you.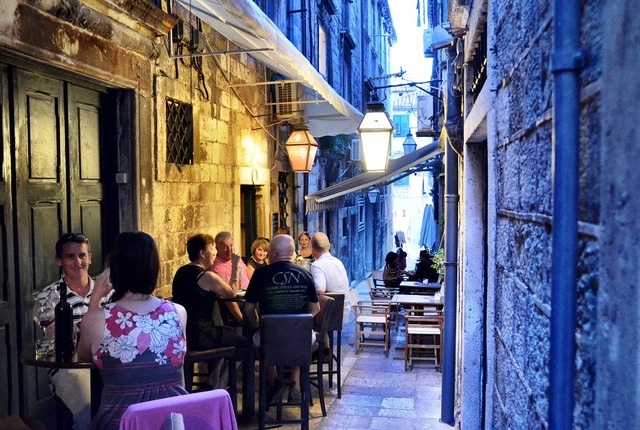 Croatian vines are real discovery for tourists, so what you must do in Dubrovnik is to forget of any other vines but Croatians. The atmosphere is cozy, excellent to relax after long hot summer day. The waiters will be happy to help you with your choice and teach you some basics. As Dubrovnik is considered to be one of the most romantic places in the world, this could be the right place for escape for you and your love one. If you are a wine lover this is the most important of top five must do in Dubrovnik for you.
Our tip: Order homemade smoked ham called pršut and cheese platter with olives to enjoy with your wine.
So book your apartment or villa in Dubrovnik and begin with your top five must do in Dubrovnik now!