Croatia is proud to have more than 1000 amazing islands. While in Trogir and Ciovo you should definitely visit at least few of them.
In this area, you will find agencies that offer one-day Trogir fish picnic every day during the summer. Lots of them offer beside Trogir fish picnic, fish picnic from Okrug Gornji and from other parts of Čiovo Island too.
Trogir fish picnic can be great option to spend some quality time with your family or friends, explore beautiful landscapes and try traditional specialties.
Trogir fish picnic starts in the harbor in front of the old city. It is a full day trip. Departure is around 9:30am and arrival back to Trogir is around 5:30pm. Trogir fish picnic boat sails through the channel between Trogir and Ciovo Island. Looking at historical city on one side, and beautiful island of Ciovo on the other side will take your breath away. You will be served with traditional Dalmatian food while sailing during your Trogir fish picnic. Usually grilled fish and homemade vine. On the way, the boat sails next to Blue lagoon which is famous for untouched nature and crystal blue sea.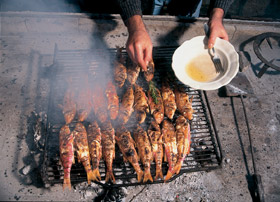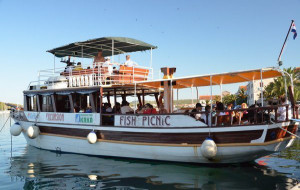 Blue lagoon or Krknjaši is one more example of tropical paradise in the middle of Adriatic Sea. It is especially suitable for families with small children.
After one hour of sailing on your Trogir Fish picnic boat, you will arrive to your final destination Soline bay. It is beautiful bay away from tourist hustle situated on south of island Drvenik.
This beach is one of the few sandy beaches on Croatian coast. Small kids will enjoy playing in sand and especially as in the nearby is a trampoline.
Listen the sound of silence, feel the scent of pine trees, swim and relax under the sun.  Trogir fish picnic could be one day to remember.
Trogir fish picnic can be booked as a private tour or you can simply join other tourists. Price is around 27€ per person.
Trogir is definitely one of best options for holidays on Croatian coast. The town is beautiful and can really offer a lot, including such one-day trips with Trogir fish picnic.
You can check our offer for wonderful private accommodation in this Trogir area.
Our tip: If you are going on your own to your Trogir fish picnic, you can spend more time on Blue lagoon beach. While in Trogir Fish Picnic in Blue lagoon orKrknjasi you can have a lunch at cult Dalmatian tavern "Kod Komuniste".
Here you can choose between excellent selection of fresh seafood and some of the best Croatian dishes!
Do not miss your Trogir fish picnic this summer!