While walking though streets of Dubrovnik you feel like you already have been there?
Well, you might have seen it in mega popular HBO TV series Game of Thrones. Dubrovnik Game of Thrones locations are very popular among young tourists lately. Besides being the pearl of Adriatic, Dubrovnik became town of the kings too! Game of Thrones was based on George Martin's novels - A Song of Ice and Fire. It is a story about war between seven kingdoms for the control and power for the Iron Thorne – the King's Landings.
It is filmed in four successful seasons with fans all around the world. Dubrovnik Games of Thrones was filmed in three seasons by now. Dubrovnik represents King's Landing – the capital of Seven Kingdoms situated in the mythical land of Westeros.  This magical city was just perfect location for filming, but the city walls had to be changed a bit by computer animation.  The role of King's Landings first belonged to Malt, but Dubrovnik played that important role from the second season. If you watched it, you will recognize Old Town walls in the attack of Baratheons scenes. Especially interesting Dubrovnik Game of Thrones scenes are filmed on most famous Dubrovnik fortress.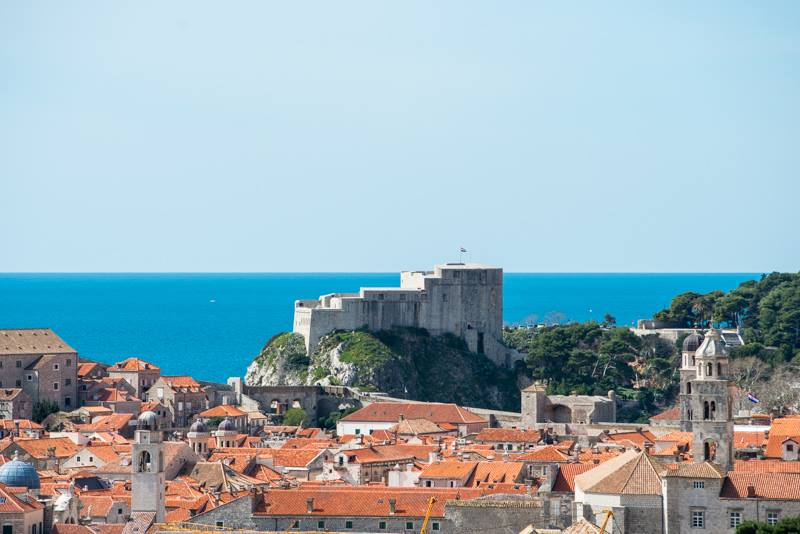 Lovrijenac Fortress (St. Lawrence's fortress) represents Reed Keep – the castell of young and evil King Joffrey. This amazing fortress is a part of many battle scenes in Dubrovnik Game of Thrones episodes. When you look down from Lovrijenac, you will see the Blackwater Bay and bloody battle scenes underneath it. The biggest scene filmed in Dubrovnik Game of Thrones is rebellion against King Joeffery.
Even small city parks were used to film countryside scenes in Dubrovnik Game of Thrones. In Dubrovnik Game of Thrones you will also recognize St. Dominic Street. This curvy street leads to the Ploče gates – the east entrance to the Old Town Dubrovnik.
Lokrum – the small Island across Dubrovnik is actually Qarth. All trading routes are passing through this great and important city. Rector's Palace also represented this magical city in some scenes of Dubrovnik Game of Thrones. Quart is pictured as a beautiful oasis surrounded by the desert.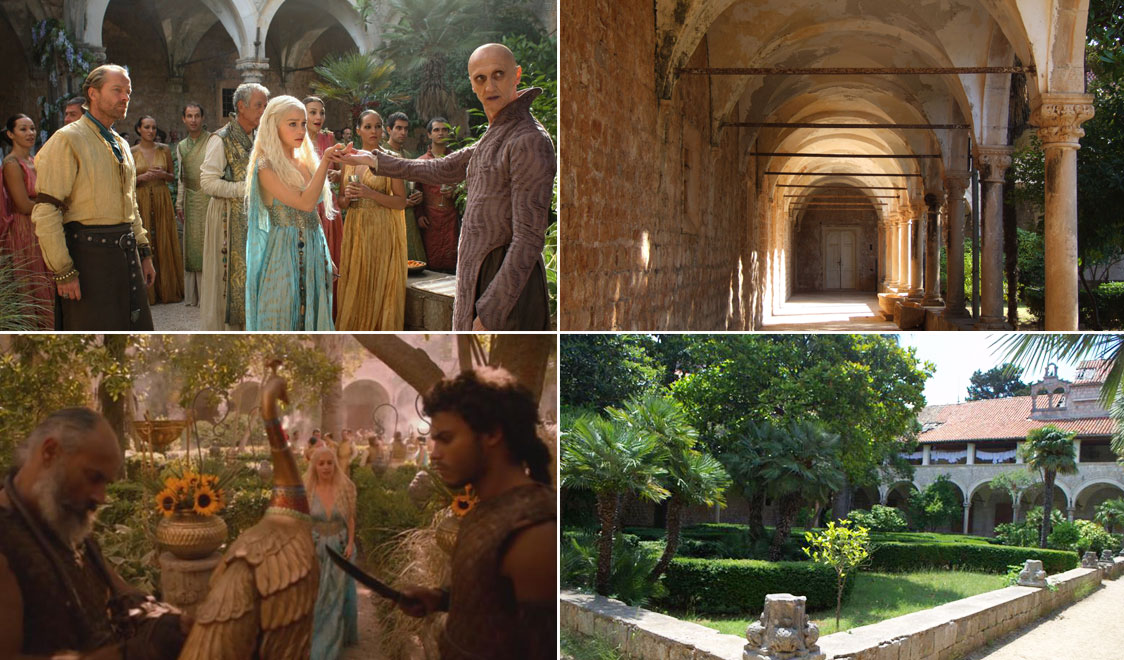 From Buza bar, you can have great view to Lokrum Island while sipping the cold drink in warm summer days too!
Zarkovica hill in Dubrovnik surrounding was desert of Khal Drogo – one of the major characters from the first season. This warrior falls in love with Daenerys Targaryen, the Mother of Dragons who decided to fight for the King's Landings too. Part of Dubrovnik Game of Thrones was also centuries old arboretum in Trsteno. Trsteno is small place approx. 20km away from Dubrovnik. Trsteno represents gardens of the King's Landings palace in Dubrovnik Game of Thrones.
The series became popular all over the world with lots of fans. Many fans are coming to Croatia only to see the places where the scenes Dubrovnik Game of Thrones were taken. The series is very interesting but very often also brutal and bloody. While filming Dubrovnik Game of Thrones scenes around 1000 locals and tourists played as statist. To be a part of this gigantic project was a dream of every young tourist and citizen of Dubronik too.
Filming map covers different places. Other locations for Game of Thrones were Iceland, Scotland, Ireland and Morocco. Iceland represented Beyond The Wall – dark side of the world. Doune Castle in Scotland was Winterfell. This historical castle is actually around one hour from Edinburgh and Glasgow. In Games of Thrones Winterfell is one of the seven kingdoms that belonged to the Stark family. Castle Ward in Northern Ireland was Winterfell's courtyard and actually is only few kilometres south of Belfast. County Antrim in Northern Ireland was used as parts of the Dothraki Sea.
Our tip: While in Dubrovnik you can book one-day walking tour ()to see all shooting places. The price is around $80,00.
As a part of this tour you will see the place where the scene when Joffrey starts a riot at King's Landing was shot, Jaime's return to King's Landings and many, many others scenes. The tour includes the guide (usually person who was the part of the set) and entrance tickets to Dubrovnik city walls, Lovrijenac Fortress and excursion to Trsteno Arboretum.
For biggest fans there is 12-day Discover Croatia tour  for approx.. $2,149,00. This 12-day tour will show you highlights from Dubrovnik Game of Thrones and all other locations around Croatia.
Split – beautiful town in middle Dalmatia is new location for season 4 of Game of Thrones. It is still not clear what it will represent but some scenes were already done at place that really was a palace of an emperor. The palace belonged to Roman emperor Diocletian and was built in 4th century. KIis Fortress was place where Daenerys gains back her power. Klis is situated 13, 5 km away from Split and around 27 km away from Trogir. Trogir is one of the best places to visit in Croatia so do not miss it! Beautiful National Park Krka on Krka River in the background of Šibenik was a great place to take the shots of countryside. Krka is close to one more of the best places to visit in Croatia – Skradin,so visit this beautiful place too.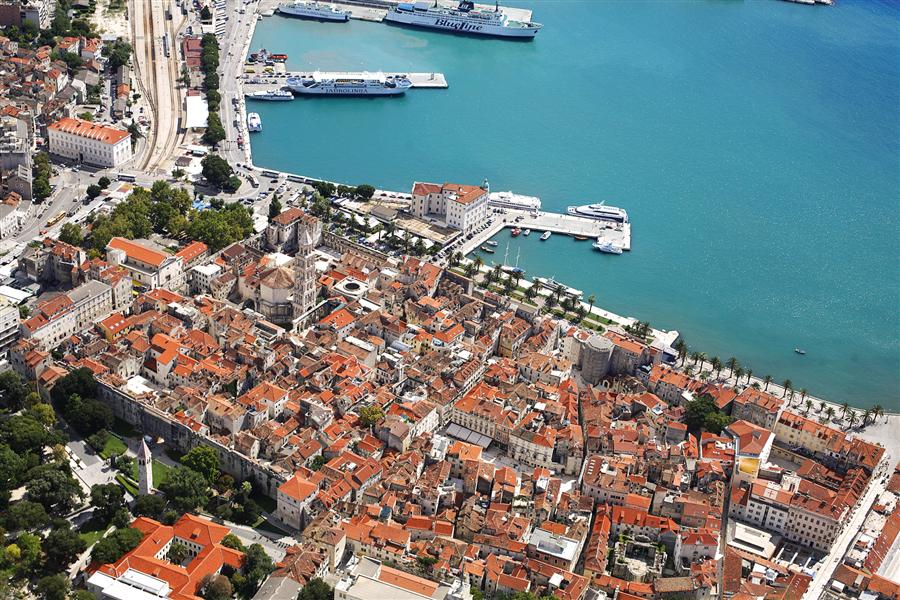 If you decide to visit middle Dalmatia book your apartment in Trogir and Split area and take a tour around. If you are ready to party, why not combine it with visiting Ultra Europe Festival in Split in June 2014?
If you imagined Dubrovnik as boring historical city this changed you mind for sure!